General Assembly Meeting in Luleå, Sweden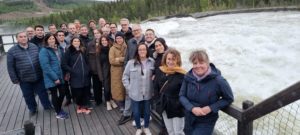 On May 30th to 31st 2023 the WEDISTRICT partners met in northern Sweden, organized by RISE Luleå. Next to extensive discussions, presentations and workshops on the progress of the project, its tools and components, the Swedish demo site at the RISE ICE research institute in Luleå could be visited.
"The main objective of this demo site is to demonstrate the use of data centers in combination with fuel cells to achieve heat recovery from data center and fuel cells directly into district heating systems without the use of heat pumps", comments Jonas Gustafsson, Research Program Manager at RISE Research Institutes of Sweden.
Please find our press release and more info on the links below: