Dr. David Gomez Fernandez
Dr. David Gomez Fernandez, R&D Engineer at Atos Research & Innovation, talks to ESCI about digitalisation in the DHC sector, energy consumption of digital services and WEDISTRICT Advanced Digitalisation Platform.
ESCI: You are part of the team that works on a digitalisation platform for District Heating and Cooling Systems. What is the goal of this platform?
David Gomez: The Advanced Digitalisation platform that we are working on will allow to monitor and control/optimise DHC networks regardless of their underlying technologies and scale.
ESCI: What exactly can be optimised?
David Gomez: We are looking at a wide spectrum of target parameters, and each DHC system may add their own, depending on their global KPIs. We could target maximisation of the integration of sustainable heat production sources, minimisation of energy cost for the consumer, maximisation of consumers' comfort. These are just some of the possibilities.
ESCI: Can you explain how the platform will do that?
David Gomez: First, the platform gathers all the "raw" data from different DHC systems and external data sources, such as weather, solar radiation, energy prices, working calendars, etc. In the next step, all this information is filtered, aggregated, transformed, and homogenised, reaching the core of the system, where it is persisted for further usage. At the intermediate layer, we use this data to predict three different outputs: energy demand of buildings/districts, waste heat recovery and energy generated at RES sources, that is, the thermal plant.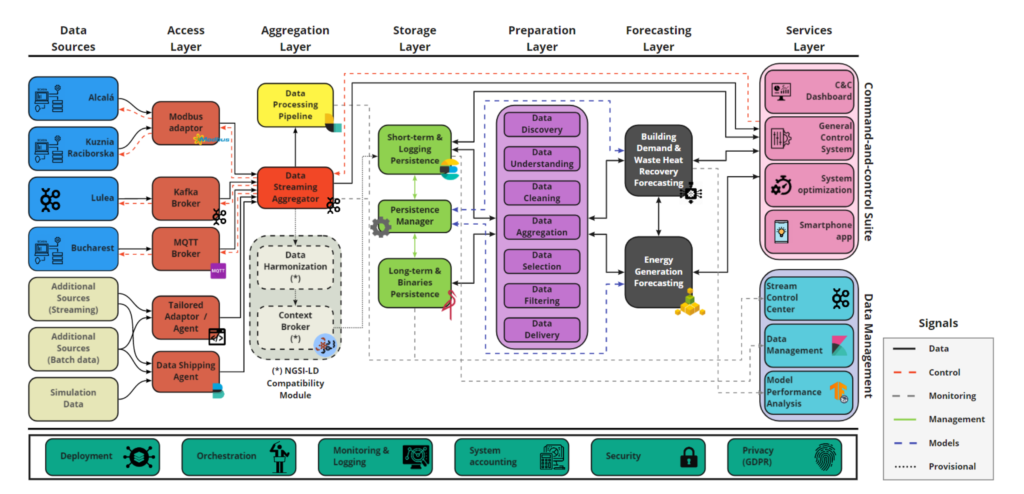 David Gomez: This information is analysed and presented on a user-friendly graphical interface, offering real-time data and prediction models to building managers and operators, who will be able to optimise the DHC network settings – either manually or automatically, relying on machine learning modelling services. Technically speaking, our systems will take decision based on a Reinforcement Learning framework.
Finally, it is worth highlighting that the system design follows a timely secure-by-design paradigm, ensuring a safe and protected workflow from the external sources (i.e., DHC systems) to the services that consume the information. Moreover, we also guarantee 100% compliance with the GDPR regulations, keeping all sensitive data private throughout the process.
ESCI: You will be testing the platform on four different demo sites, which are composed of very different technologies, provide extremely different data, etc. How is that possible?
David Gomez: The answer lies in the fact that we are relying on open source. Not only our solutions are open source, but also the communication protocols, the standards, etc. are using open technologies, which leads to creation of open data that can be aggregated and transformed to open standards. So, this makes it possible to be completely compatible with any DHC system or external source of data connecting to the platform. Of course, this is not done by magic and an intermediate adaptation process is required.
Open source also means in this case that all the innovations and developments that we are working on within the framework of the platform can and will be shared. This is an advantage of a product born from a research project like WEDISTRICT. It is important because proprietary solutions/commercial products are typically built on their own devices and type of data, thus forcing users to purchase their devices and systems. Our solutions cater to a variety of devices and contexts, offering a high degree of interoperability.
ESCI: Are there similar platforms on the market? If so, what makes this platform different?
David Gomez: There are indeed similar platforms on the market – mainly driven by big manufacturers. They normally sell the whole ecosystem, from physical devices to smartphone applications, which rely on specific devices from these manufacturers.
On the other hand, there are SMEs and startups on the market that focus on some of the elements of this chain, like forecasting, BMS-like services, smartphone apps – you can buy and deploy these elements independently.
If we must compare our work to these products, I'd say we try to mimic the manufacturer role over the whole information lifecycle, but without being limited to a particular technology; rather relying on independent open-source solutions, ensuring high level of independency and interoperability, as we discussed earlier. This allows DHC actors to take only the elements that they need, without having the need to exchange the devices that they had purchased in the past, if they want to upgrade their system.
ESCI: You mentioned that the platform would help save energy. What about the energy consumption of digital services? Don't they bring the total savings to zero?
David Gomez: Yes, it's true; yet it is a kind of paradox. Digitalisation comes at a price, and we must find a way to trade it off because with all these calculations we are emitting CO2. Training AI models consumes a lot of processing power, and hence a lot of electricity. Though we cannot assert this as a strict rule, but generally speaking, the larger the dataset that is used to train a model, the higher is the energy consumption. In fact, there is research that shows that training a single AI model can emit as much carbon as 5 cars in their lifetime. It is a problem that must be addressed and is one of the most challenging open issues that the scientific community is facing these days, leading to new and more efficient frameworks and algorithms.
Being aware of that, Atos pioneered the role of big players battling climate change, thus setting an ambitious goal of becoming a "net-zero emissions company" by 2028. To achieve this goal, Atos has come up with a Global Net Zero Transformation Center of Excellence, accelerating both companies and customers journey to carbon neutrality.
ESCI: If we talk about digitalisation in the DHC sector: What advantages or chances does digitalisation bring?
David Gomez: I would say that digitalisation reduces the overall cost of decarbonisation of the heating and cooling sector and increases its overall efficiency. Acting as a game-changer on the 4th generation of DHCs, the utilisation of ICT technologies leads to overall optimisation at all levels – production, distribution, operation, and consumption. Or in other words, to a fully automated end-to-end system that constantly adapts to current and future events, leading to an optimised system performance.
Here you will find more information about the Advanced Digitalisation Platform.
By Daria Kulemetieva from ESCI.