How scientists and engineers are already taking up the challenges from the new European Green Deal.
The beginning of a story often starts in an unpretentious place. A place like an undeveloped piece of land in the industrial park of Alcalá de Henares, 35 kilometres East of Madrid. Within the next 18 months, this area will be turned into a solar park and equipped with a modern biomass boiler. The aim is to use the solar panels and the boiler to heat (or cool) a nearby building without using any fossil fuel.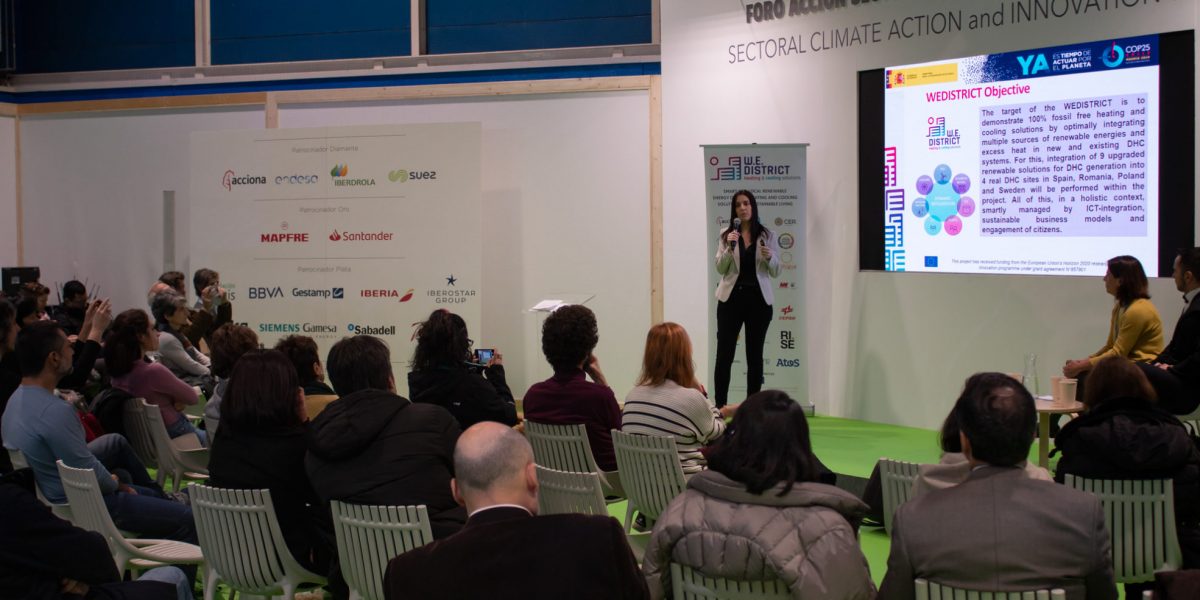 "We want to demonstrate that it's possible to have a 100% renewable system, and not only here in Alcalá, but also in other cities in Sweden, Poland and Romania."
says Maria Victoria Cambronero, Maria Cambronero is an industrial engineer who works for the Spanish engineering company ACCIONA. She is also the coordinator of the WEDISTRICT project, an initiative that is funded by the European Commission to integrate different green technologies in district heating systems across Europe.
District heating is a centralised system that provides heating and cooling to buildings via buried piping. It has been used for decades, but it is mostly run on fossil fuels like coal, oil and gas. In fact, currently 70% of the energy that Europe uses to heat or cool buildings – meaning your central heating or air conditioning – comes from fossil fuels. 
Maria Cambronero was invited to present her project during the UN Climate Conference (COP25) just around the corner of the Alcalá site. For her, it's a home game in a challenging field, where research initiatives are not competing with each other, but aim to create open data and freely available results for everyone, so that other scientists can benefit from the results. 
At each of the four test sites, different technologies are being trialled to play on the strengths of that particular area, aiming their decarbonisation by prioritising the most suitable local resources. Whereas the Spanish demo site in Alcalá will focus on solar energy and biomass boilers, the Romanian demo site will be powered by a geothermal pump. The Polish demo site will substitute a current central stated coalbased with biomass boilers, while in Sweden the concept is different altogether.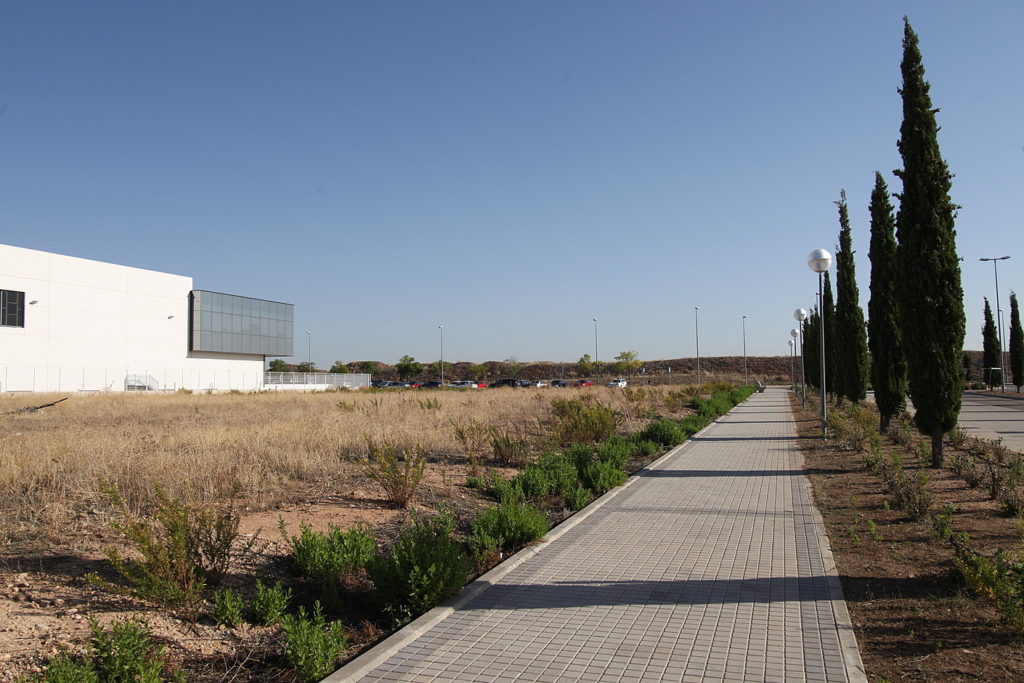 The Swedish site is in Luleå, close to the arctic circle. Here, district heating powered by renewables already exists, and the challenge will be to integrate waste heat from data storage centres into the district heating system, integrating a cogeneration system based on fuel cells. Data centres contribute to about 0.3% of global emissions, and they use 200 TWh per year, which is a bit more than the double the annual electricity demand of the Netherlands. 
"This is a very ambitious project, but in my opinion not because of the technologies themselves, Most of them have already been proven – the catch is to adapt them so that they are operating at maximum efficiency and minimal cost. "The critical point is the timing, because this project has to finish in less than four years." 
says Maria Cambronero.
Only a swift implementation of the project will enable others to benefit from these technologies and apply them to many more cities and heating and cooling systems across the continent. In this respect, the WEDISTRICT project is the kind of activity, Ursula von der Leyen, the new President of the EU Commission, referred to when she presented her New Green Deal at the COP25 conference in Madrid earlier this week. 
According to von der Leyen's assessment, Europe has reduced its greenhouse gas emissions by 23%, while the economy has grown by 61% since 1990. For these efforts, the EU has been praised as a world leader in terms of climate change policies, but clearly there is still a long way to go to achieve the European Commission's goal of becoming climate neutral by 2050. 
"This is Europe's Man on the Moon moment", Ursula von der Leyen claims in her press statement, while she also stresses the economic opportunities that the fight for climate change can provide: "the European Green Deal is a strategy for growth that gives more back than it takes away." 
Alan Haigh, head of the Horizon 2020 Department of the Innovation and Networks Executive Agency (INEA) could not agree more. INEA is supporting the WEDISTRICT project, and he explains that their funding strategy is in line with the European Commission's overall policy: "Our research and innovation projects aim to develop new technologies, products, processes and services that could mitigate climate change and boost Europe's energy security. This should also help to create new jobs and make the European economy more competitive." 
The current EU approach and in particular the new European Green Deal is welcomed by most professionals working in research and innovation to battle climate change. It's seen as an important first signal of priorities of the new Commission, but will it be enough?  Maria Cambronero is unsure: "We have the 2050 deadline, which is in 30 years, and maybe we should be more ambitious, because maybe in 30 years it's too late." This is also reflected by the general theme of COP25, that we are running out of time when it comes to the climate emergency, and that the time to act is now. This year, greenhouse gas emissions hit a record high, with no signs of a slow-down. 
"If we do not take urgent climate action now, then we are heading for a temperature increase of more than 3°C by the end of the century, with ever more harmful impacts on human wellbeing,"
said World Meterological Organsiation Secretary-General Petteri Taalas in November.
"I hope that we don't forget this in two weeks when the COP has ended,"
says Maria, speaking about the buzz and the publicity that has surrounded the world's biggest climate change conference.
"We have to tell politicians and also representatives from legal entities, big entities that can influence society in general, to be really ambitious with policies. This is a real emergency and they need to act, not only these two weeks when the COP is on, but day by day."
For more information, please contact
European Science Communication Institute